I went with my friend to her big work shindig last night. I didn't get the memo about the dress code.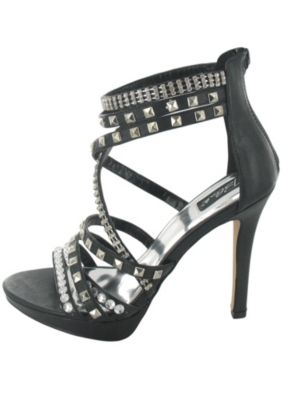 Most of the women were wearing little black dresses with tights and shoes very much like the one pictured here. (Call me old-fashioned but I'm pretty sure you aren't supposed to wear hose with open-toed shoes.) I wore jeans and my peely red leather boots. Sometimes I feel like Clint Eastwood. That's probably why everyone was casually feeling out the true nature of the relationship between my friend and me. She and I are friends, not "girlfriends" but still, I refused to debunk that myth. That would be very un-cowboy of me.

In keeping with the flavor of the evening, we slipped away before the dancing and went to the secret bar. There was a cowboy band playing complete with a violinist and a lead guitarist with a 1950s era Fender in virginal white which contrasted nicely with his black pearl snap western shirt. The band was good. The lead singer was Australian but everybody knows Australians make the best rednecks because they're from the Deep South.

I can't remember the name of the band but my friend had to pass the tip jar because she's outgoing, trustworthy and was wearing a nice femme outfit. I guess that makes me the butch -- well, that and my Clint Eastwood glare.