(The Oval Office Shakespearian Troupe presents The Tragedie of Julius Caeser, by William Shakespeare to celebrate the Ides of March.)
Scene: A crowd of US citizens dance and cheer, for US Attorney Patrick Fitzgerald is slated to testify before Harry Waxman and a special committee of the US Congress this week. The people are overcome with joy -- the time of impunity is running out for the House of Bush and perhaps the
Immortal Ones
will finally be held accountable for the evil they have been sowing since the Nixon Administration -- or the entire lifespan of a certain mermaid.
Act I, Scene II
SOOTHSAYER.
Caesar!
CAESAR.
Who is it in the press that calls on me?
I hear a tongue, shriller than all the music,
Cry "Caesar."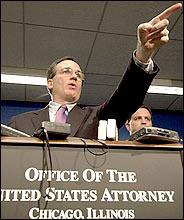 SOOTHSAYER.
Beware the ides of March.
CAESAR.
What man is that?

BRUTUS.
A soothsayer you beware the ides of March.

CAESAR.
Set him before me let me see his face.

CASSIUS.
Fellow, come from the throng; look upon Caesar.
CAESAR.
What say'st thou to me now? Speak once again.
SOOTHSAYER.
Beware the ides of March.

Scene: The crowd stands still with heads down and mouths agape as the wicked house of Bush gives them the finger yet again, just like they do every day -- and Patrick Fitzgerald is nowhere to be found.

But watch closely for they are not only flipping us off, my fellow Americans, they are preparing to stab Gonzales in the back for carrying out their evil plots and failing to realize that he wasn't REALLY a crony.

And don't forget that Dick Cheney holds the United States in the palm of his very red hand. :